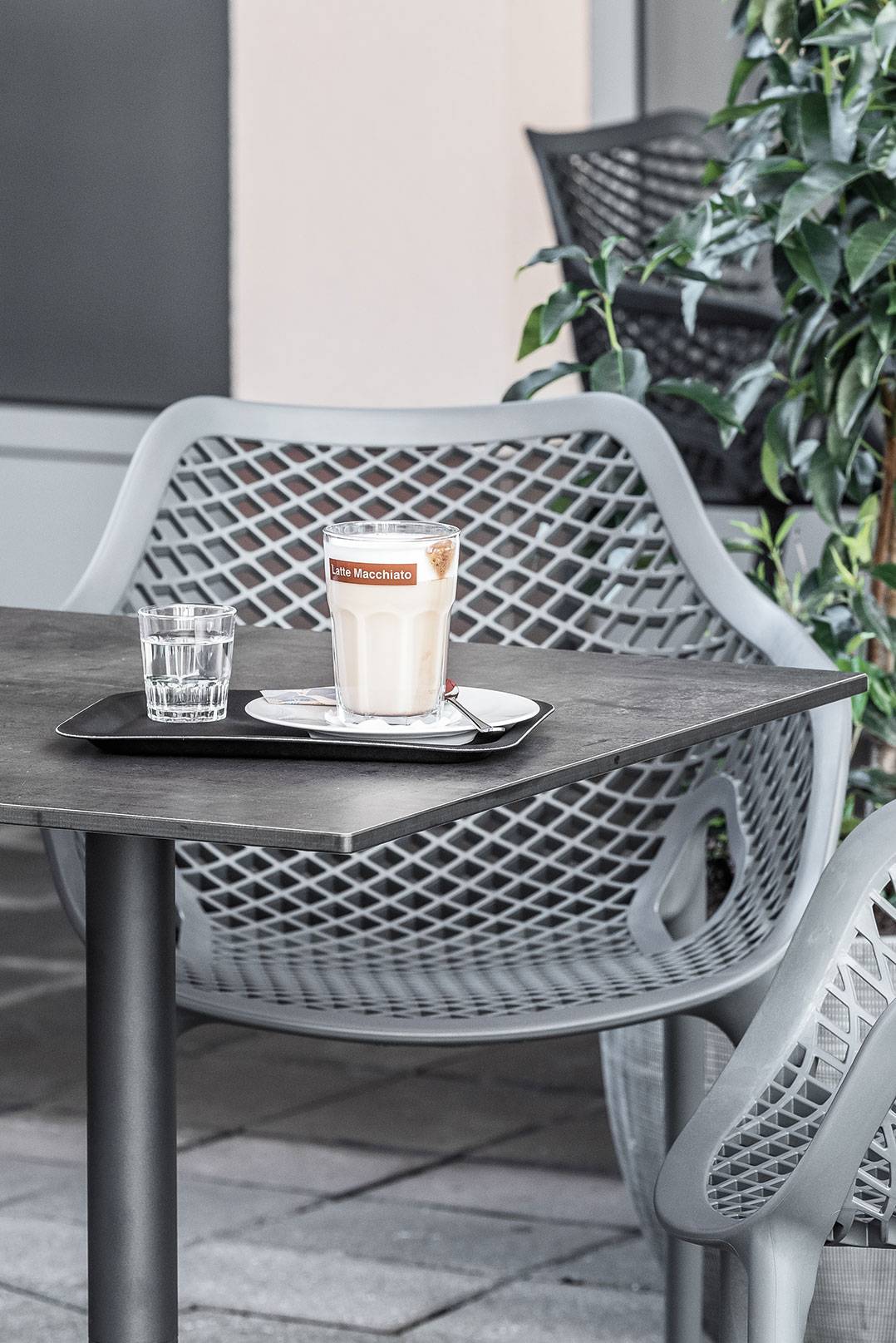 Outdoor dining tables for the food service industry and hotels – a pleasure for the senses
Having the opportunity to eat a dish outdoors simply makes the food taste even better. At an attractively laid table, with flowers and a fine table top, the ambience invites guests to linger and enjoy it. Use our modular system to design customised outdoor dining tables for every occasion.
Designing dining tables using the modular principle
If you want to stand out from the crowd, you should not resort to the standard seating of every terrace. At GO IN, you have the option of combining a table top, the table column and the table legs in various shapes, materials and colours with one another in just a few steps. You can create a dining table which is eye-catching and does not need to hide under the plates. Dare to combine different materials, for example wood with metal or popular outdoor woven fabric with a glass table top. Decide for yourself whether it is more appropriate to select a round format for the table top or whether you would like to design your outdoor area in accordance with the motto "square, practical, good". The dining tables have a height of approx. 71 cm and thus help you to achieve comfortable dining.
Which table legs should it have?
There is a wide variety of alternatives for the table base. Whether it's a four-legged table or a toed foot, choose a leg which meets your requirements. For the outdoor area the table legs should be reliable supports which keep the dining table at a pleasant height and, at the same time, ensure that the table is stable.
Depending on the position and the type of floor surface, not only traditional four-legged tables are suitable for this, but also individual columns placed in the centre which support a table top. This promotes the stability of the table and makes the entire outdoor area appear airy and open. Or simply without any legs? A lot of freedom for the legs when sitting is created by a table with side panels, enabling the guests to sit in comfort without having to constantly bump against a disruptive table leg. The table top is held by two side panels and harmoniously frames the eating area. Select a table leg option which fits your dining table and emphasises a harmonious ambience.
Flat technology – good stability for any surface
You have an outdoor area with cobblestones, grass or gravel on the ground? Thanks to the innovative Flat technology from GO IN, you don't have to worry about this any more. With the help of hydraulic floor glides, any table leg can be separately adjusted to unevennesses and thus ensure stability. Put an end to dining tables in the outdoor area which have different heights and thus do not allow you to create an even table top surface from a number of different tables. The levelling and stabilisation technology helps you to achieve an evenly aligned table surface. Whether it is for beer gardens or a cosy sun terrace, let your guests enjoy little delicacies in peace, at a dining table which is a match for any floor surface. Design a harmonious outdoor area with your own table creations. At GO IN, you will find a variety of combination possibilities for dining tables in the outdoor area.
We are service partner