Outdoor tables for the food service industry and hotels – chic, casual, cool, elegant
Tables are generally underestimated elements of outdoor furniture. Ultimately, they only serve as a surface for putting things on, whilst outdoor sofas and arm chairs focus on comfort. However, this is not the case! Tables provide a harmonious overall image and are perfect for holding small table decorations which emphasise the warm ambience and, at the same time, invite guests to linger.
There is the right table for every chair!
It is not called "The Wishing Table" for nothing – a table helps us to enjoy delicious treats and is an important part of this. Unlike conventional tables in the food service industry, outdoor tables not only have to withstand daily use, but also have to resist a variety of weather conditions. Whether there is snow, ice, wind, rain or sun, the material used must be weather-resistant and robust. With GO IN, you can choose between a variety of table models and select your desired material. With our online configurator, you can put together a table top and table legs in accordance with your individual requirements. Combine traditional curved cast iron tables legs with a bright plastic table top which instantly catches the eye.
Flat technology prevents tables from wobbling so easily
People would like to sit in comfort at a table and enjoy their food or drink, and that is when the trouble begins. A wobbling table can spoil someone's mood for the rest of the evening. The first solution is to use beer mats to rectify the situation, but these give way under the weight of the table after a while and the table continues to wobble.
Why not invent a table which simply cannot wobble in the first place? GO IN will supply you with tables which are suitable for any surface. Whether it is used in a beer garden, on an uneven terrace or on a meadow, the patented Flat technology delivers what it promises. Every table leg can be adjusted separately to the ground conditions with the help of hydraulic floor glides. This has a tremendous advantage on cobblestones in pedestrian zones. To make an even table surface across several tables possible, the innovative levelling and stabilisation technology helps you to align the individual table tops evenly. Allow your guests to enjoy a relaxed break without worrying about a wobbly table.
Folding and putting away – the tilting mechanism as a little helper
Functionality is an important aspect in the fast-paced food service industry. So that you can always act quickly in a variety of situations, the practical outdoor tables with a folding mechanism at the side can be set up and taken down quickly. This allows you to stack any number of tables side by side to save space.
The tables fold up simply when you pull a small strap. A steel shackle handle, which is not immediately visible, allows easy transportation; and if you leave the folding tables outside overnight, you can attach practical bag hooks and a steel wire for theft protection. Attract attention to your restaurant with harmonious and inviting outdoor tables and help your waiting staff to set up and take down the tables quickly and easily with a simple tilting mechanism.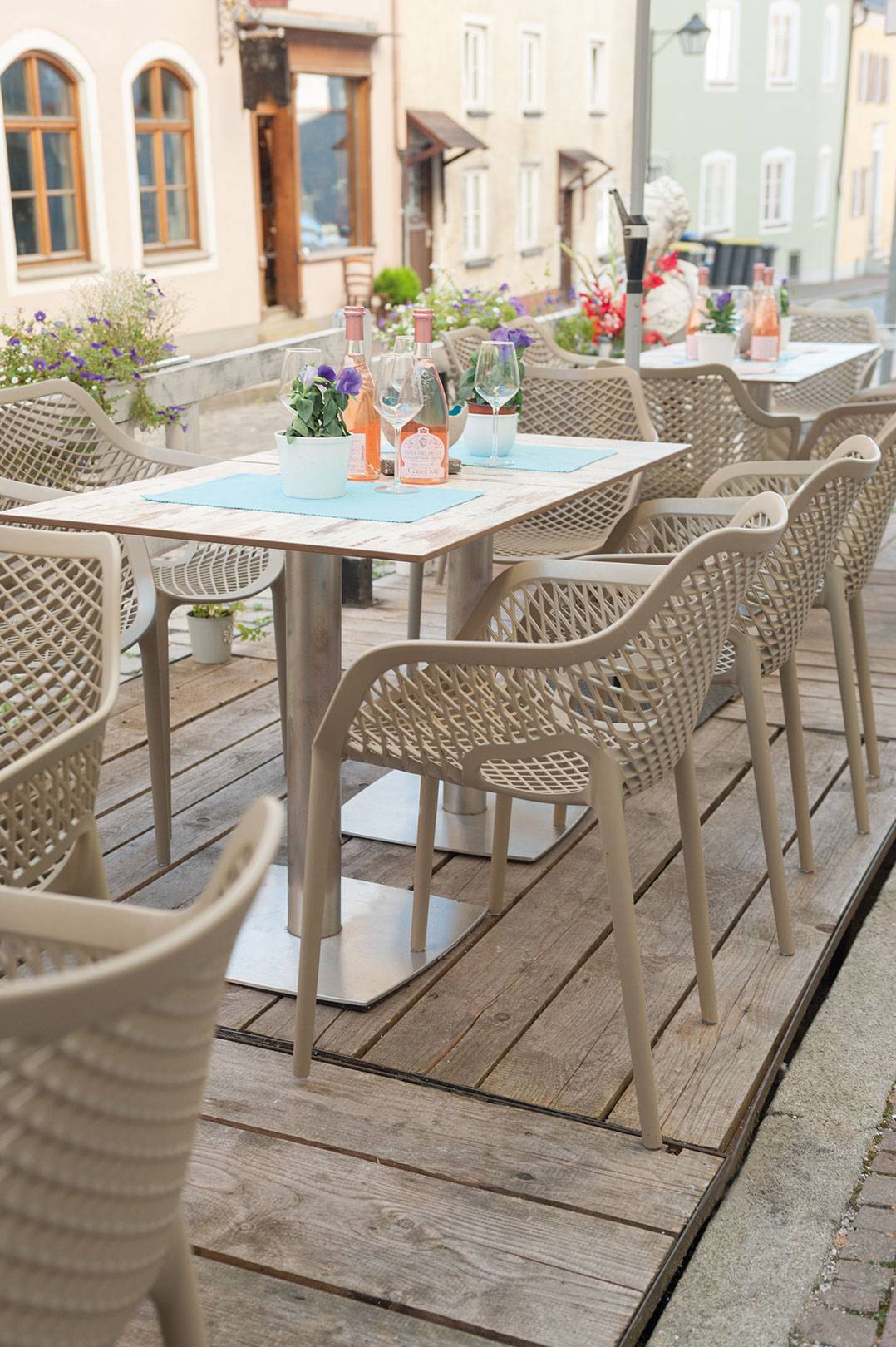 We are service partner