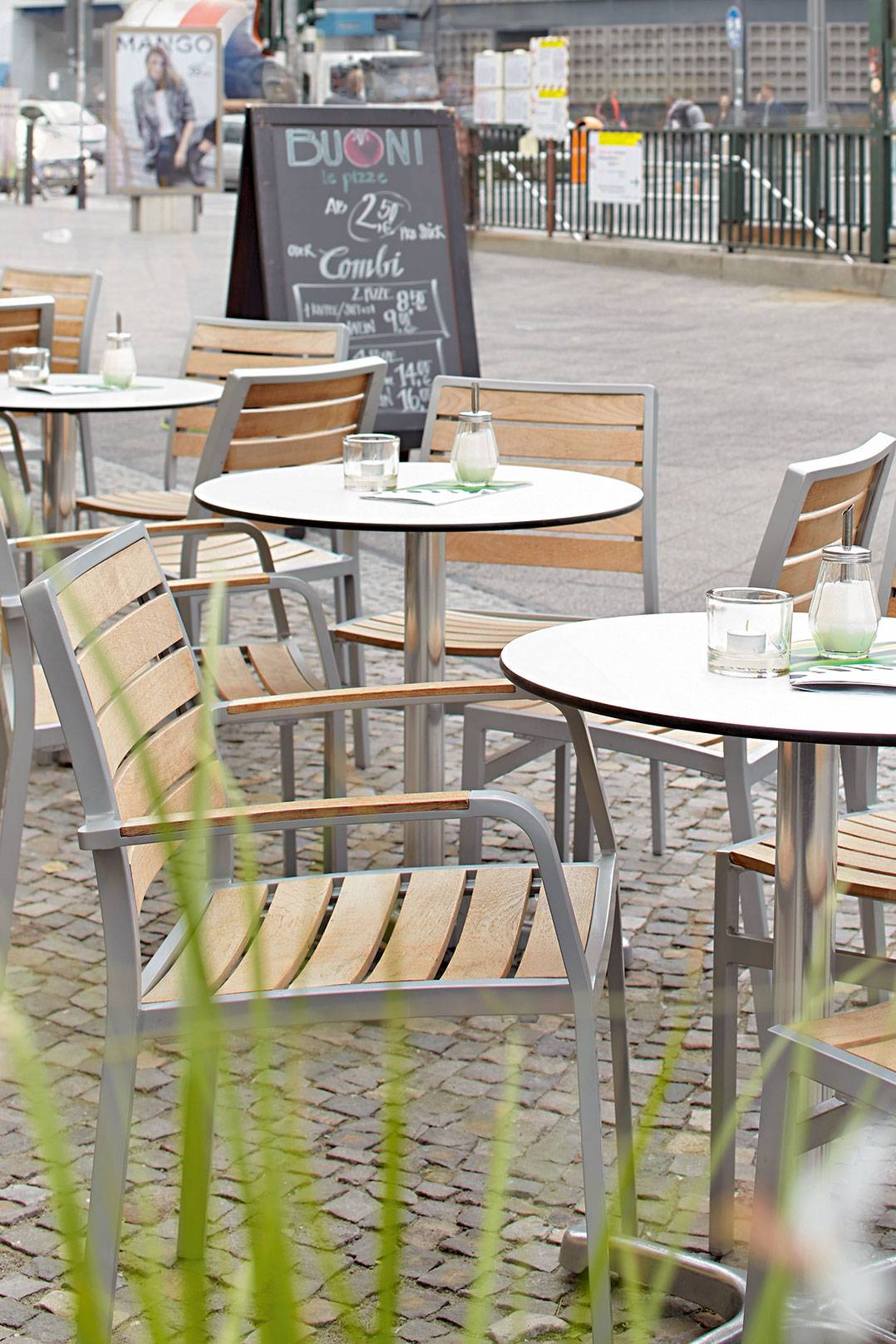 Outdoor chairs – resist any weather
There is no bad weather, only bad clothing. This rule does not only apply to people, but also to furniture. Restaurant furniture produced from unfavourable materials does not bring joy and is not durable. Therefore, GO IN focuses on the benefits of weather-resistant materials which effortlessly withstand strong UV radiation or icy weather. In the GO IN shop, you can discover the variety of outdoor chairs which can brighten up your outdoor area in the food service industry and the hotel sector and attract guests.
Materials for resilient and robust outdoor chairs
Restaurant furniture for outdoor use has to go through a lot: tremendous solar radiation with UV exposure in the summer, icy coldness and masses of snow in the winter. The material expands and contracts – if a lower quality material is used, it tears or discolours. GO IN provides weather-resistant materials which defy any weather influences. They are UV-resistant and tear-proof, light and robust, comfortable and modern. You can get terrace furniture, beer garden furniture or stylish lounger furniture for outdoor use from us in a cosy wickerwork and woven look, elegant metal or practical plastic. You will also find an innovative and extremely functional hybrid material – Resysta – in our selection.
RESYSTA® by GO IN – "The Better Wood"
Wood is an important raw material since time immemorial. However, this has a detrimental effect on the rainforests, which are slowly disappearing from our planet. To establish this environmental awareness and to promote the ecological balance, GO IN works with the fibre-reinforced hybrid material RESYSTA®. It is made from approx. 60 % rice husks, approx. 22 % rock salt and approx. 18 % mineral oil. The benefits of the material are obvious:
low to no maintenance required

Sustainable, waterproof, dimensionally stable, durable

100 % wood-free, recyclable

Hardly distinguishable from real tropical wood in terms of its feel and appearance

Mechanical strength

Thermal resistance

Chemical resistance

Does not swell, grey, tear or splinter
Due to its thermoplastic properties, the material can be converted into another product – e.g. wood-like boards in a spa and swimming pool area – after its useful life as an outdoor table or chair. "The Better Wood" clearly delivers what it promises!
FLAT® technology – steady on any base
The soup almost sloshes out of the plate, the good beer spills and the house of cards collapses with the slightest push. With GO IN's patented FLAT® technology, these moments in the everyday life of a beer garden are a thing of the past. The levelling and stabilisation technology makes it possible for table tops to be level and chairs to be stable on cobblestones and uneven wooden floors. The intelligent functionality is just as practical if guests would like to move the tables themselves to create a large table area. All the tables can be adjusted to one height – this saves the waiting staff a lot of effort in aligning them.
Be Free – unusual designs at GO IN
In spite of the huge range of functions, the design will not fall by the wayside in our outdoor chairs, stools, benches and loungers. All the materials can be put into wonderfully unique shapes and thus underline any style of food service establishment. Whether it is a rustic beer garden, a modern bar with a sun terrace or a detailed hotel in a 1970s style – the customised GO IN design will support your style. You can also design the colour combinations in accordance with your individual requirements. Take a wickerwork chair as a basis and refine it by providing individual accents in the form of colourful cushions. 
GO IN services – the best from us for you
When spring unexpectedly arrives at your restaurant or café, the old outdoor chairs have not survived the winter and the guests are already getting ready for their first cool ice cream, there is no more time to wait for the new stylish chairs. With our express delivery, you will receive your furniture within 2 days in Germany, within 3 days in Austria and within 4 days in Switzerland and France. You are welcome to collect your goods in person from our central warehouse in Landsberg am Lech. Design your outdoor area with wonderful and attractive outdoor chairs which invite guests to linger. It is not only on sunny summer days, but also on cold winter days that GO IN's chairs are a wonderful accessory which are a real must on your terrace. 
We are service partner