Wooden chairs for the food service industry and hotels – rustic charm meets modern design
Wood gives any room a special feeling of cosiness and skilfully brightens up rooms with a cool design. GO IN allows you to use a large number of wood variations to put together a wooden chair in accordance with your own ideas. Using the practical configurator, you can enter your wishes in just a few clicks and see the result immediately.
Which wood should it be?
Whether it is bentwood, solid wood or moulded wood, the traditional raw material impresses with its robustness and compatibility with other materials. Classic style icons such as Biedermeier defined whole eras, and it was not possible to conceive an interior design without solid wooden furniture with an elegant charm. Nowadays, wooden chairs are a welcome item of furniture, especially in the food service industry and in hotels. We offer you a choice of 13 colours and different types of wood, which may vary depending on the model of chair. Design your chairs according to your own taste. For example, create an elegant atmosphere with a combination of dark walnut wood and lace cushions.
Into the woods – wooden chairs for any interior design style
Wooden chairs with padded backrests and stools can be used in many combinations. Design your room in a shabby chic or retro look and combine wooden elements with rusty, worn-looking shelves or other items which bring a decorative effect with them. A neutral cushion colour with dark chair legs blends wonderfully into the interior design. The country house style would not exist at all without wooden elements. Rustic wooden chairs are a must have feature! The country house style skilfully unites the traditional, rural charm of the countryside with romantic elements. Floral cushions, a lot of lace and wooden decorations instantly conjure up a comfortable dining ambience. Turned wooden legs and elaborately designed details spread the feeling of romance and nostalgia.
Quickly stacked – place-saving wooden chairs from GO IN
In the food service industry, in particular, it is not only a flawless and sleek design that is required. The quality and functionality are also important characteristics.
GO IN attaches a lot of value to the needs of the various sectors. Thus, a variety of types of chair which are very easy to stack are available: clearing up times are reduced and space is created in an instant. Be flexible with respect to the number of chairs and store the spare chairs which are not required in a space-saving manner.
The classic amongst chairs – the brewery chair
Rustic wooden chairs are indispensable in a real inn. The classic brewery chair exudes its traditional charm and invites guests to linger. Decide for yourself whether you prefer the rustic classic version for your premises or whether a modern choice of colour is worth considering. With GO IN, you can simply change wooden chairs according to your own ideas, thus creating a harmonious overall image.
Lose no time with the express delivery service
When your restaurant or a lounge is being opened or redesigned, it can often get stressful. So that you no longer have to worry about the delivery and assembly of the furniture, we offer you an all-round service. Stock goods which are already in our warehouse can be delivered within two working days with the express delivery service or collected directly from the headquarters in Landsberg am Lech. Our team helps you to concentrate on the important things. We take care of the delivery, bring the furniture to the right place, perform the entire assembly and dispose of the packaging materials.
Browse through the large selection of wooden chairs and use the online configurator to easily design your chairs. We will also provide you with samples, so that you can be sure that you have chosen the right combinations of colours and materials.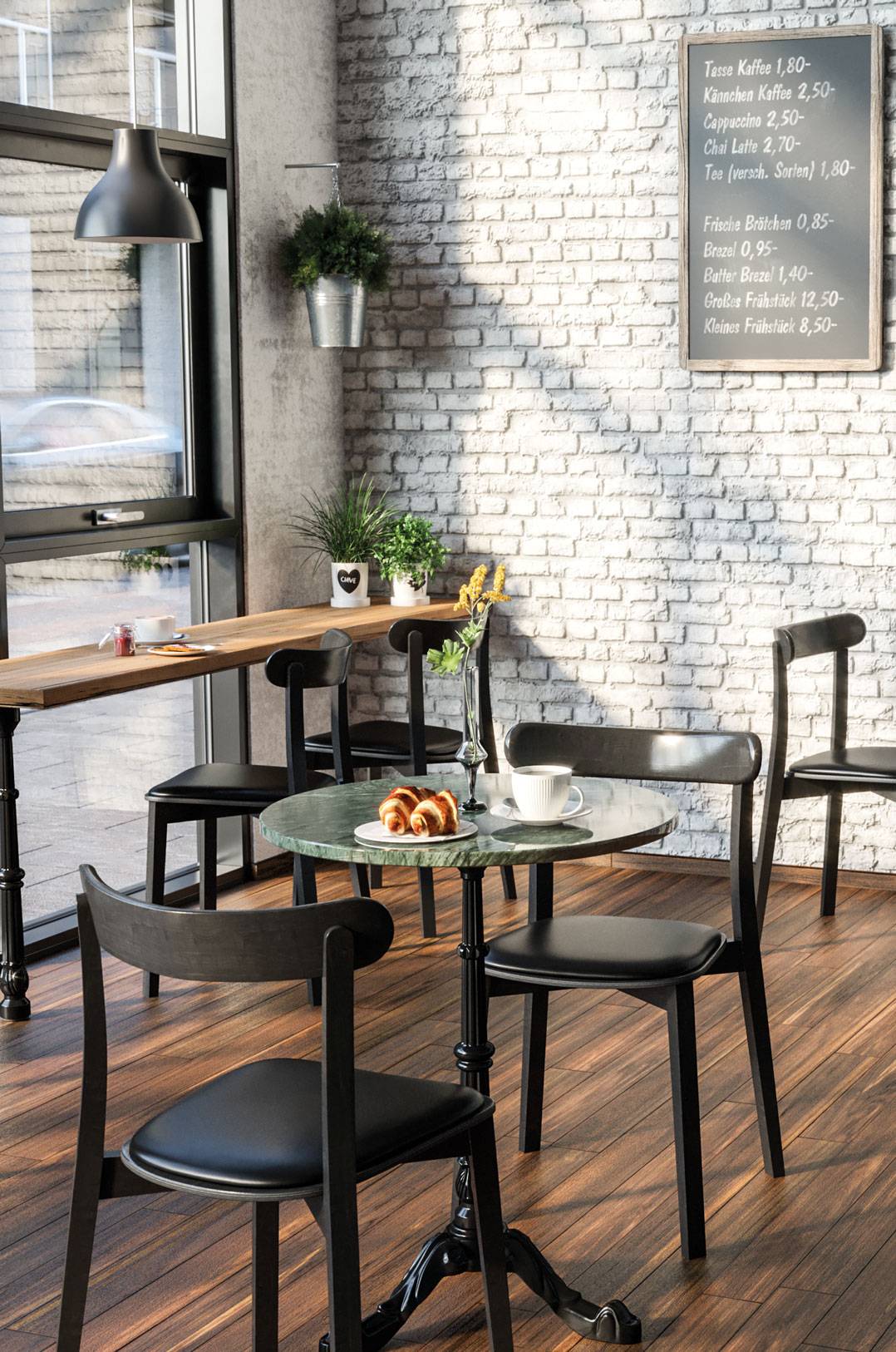 We are service partner