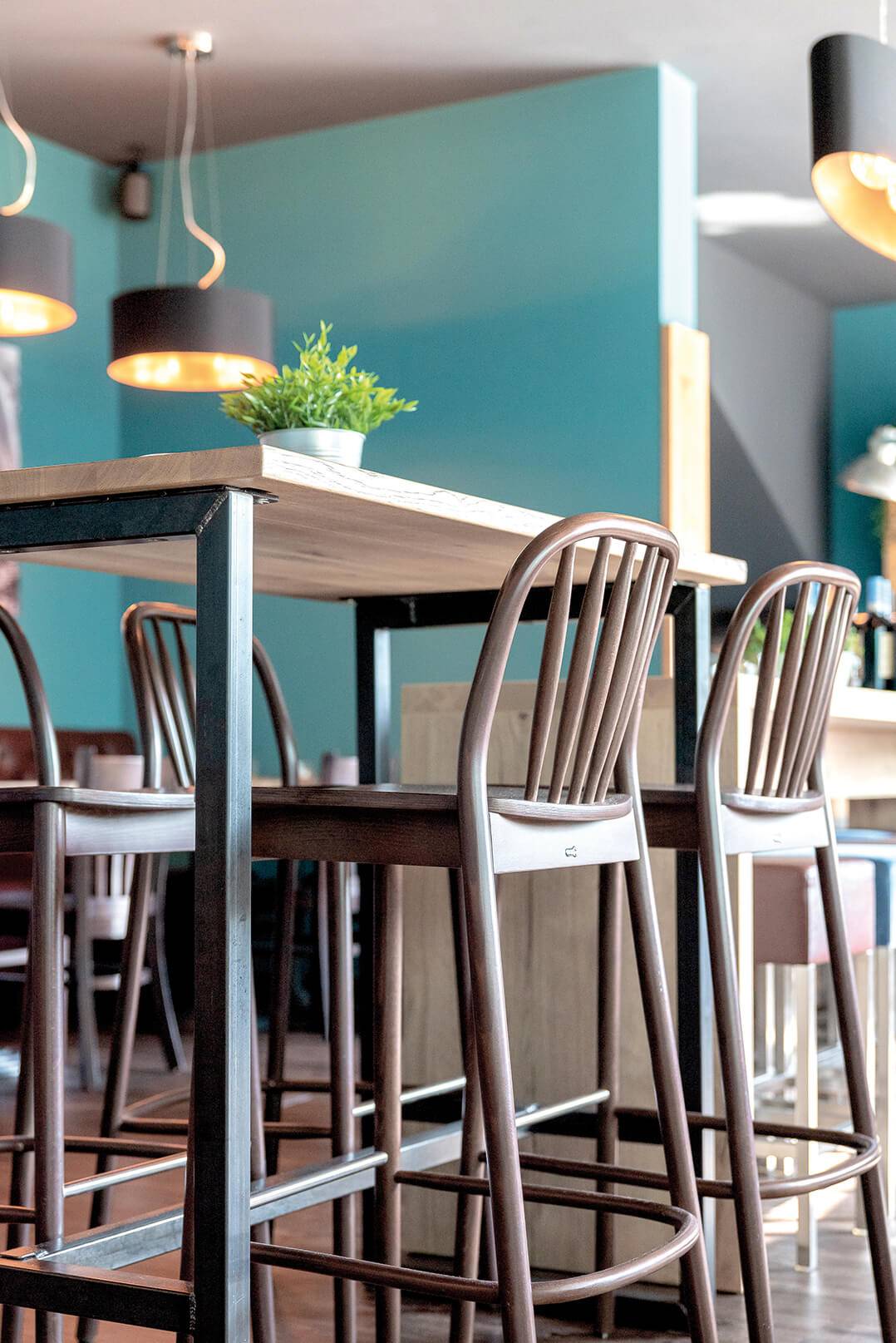 Bar tables for the food service industry and hotels for any occasion
Bar tables fit well into all interior design concepts where the focus is on practical hospitality. Bar tables are used in the food service industry to save space; they provide a suitable ambience in your bar, bistro, pub or in the café. Snacks in bakeries or in a snack bar can also be served at bar tables. At GO, we attach great importance to a stylish design which meets your wishes and requirements. Therefore, you can put together table tops and bases for a number of bar tables on an individual basis.
Make your bar table unique – design it from the top to the base
High bar tables fit well into any kind of disco or club. In companies, bar tables lend themselves to receiving guests – the possibilities for the use of a bar table are almost unlimited. Solve your space problems in an instant with this type of table and create a relaxed and airy interior design.
With simple table covers, you can envelope any bar table in an elegant dining look. Do not leave the design of your bar tables to chance!
Design a bar table to be proud of in just a few seconds! With our practical modular system, you can put the individual components of your table together yourself. Select base parts, columns and table tops. There are numerous design possibilities:
ornate, linear, playful,
matt, glossy,
dark muted colours or bright and colourful,
cast iron, steel, aluminium for the base and column,
wooden, high-quality artificial wood, laminate coating, natural stone
glass for the table top
The GO IN online configurator makes it easy for you to put together your customised bar table.
Smart technology
Benefit from the innovative technology which makes the handling of bulky tables and furniture a thing of the past. With the simple tilting mechanism, for example, the waiting staff have the option of setting the tables up and taking them down quickly, without having to overcome obstinate folding technology. When setting up the tables, it may often happen that the floor is uneven, leading to a wobbly table. This must be quickly remedied, especially in the case of events. Leave the beer mats at the bar, as the FLAT technology allows the table to be stabilised quickly. The table legs can be adjusted on individual basis by means of hydraulic floor glides, allowing unevennesses to be removed easily. At the same time, the excellent levelling and stabilisation technology will help you to achieve a uniform table top height. This allows you to put bar tables together in little groups of two, for example.
Medium-height tables – comfortable and stylish at the same time
Bar tables allow your guests to help themselves to an aperitif and allow them to stand in comfort whilst doing so. To be able to eat at bar tables, bar stools are necessary, which do not necessarily make the whole thing comfortable. Medium-height tables enable you to sit high up, but still to eat comfortably. At a height of 92 cm, they are the perfect size for sitting and at them and lingering. At GO IN, you can design tables which exactly fit your requirements. With the online configurator, you can choose the dimensions of the tables and find the perfect height for your property. Design bar tables, chairs and stools which fit into your interior design style and are perfect for any occasion. GO IN is a competent design partner which will provide you with comprehensive advice on all points and will bring your desired product, including a varied range of services, into your premises.
We are service partner