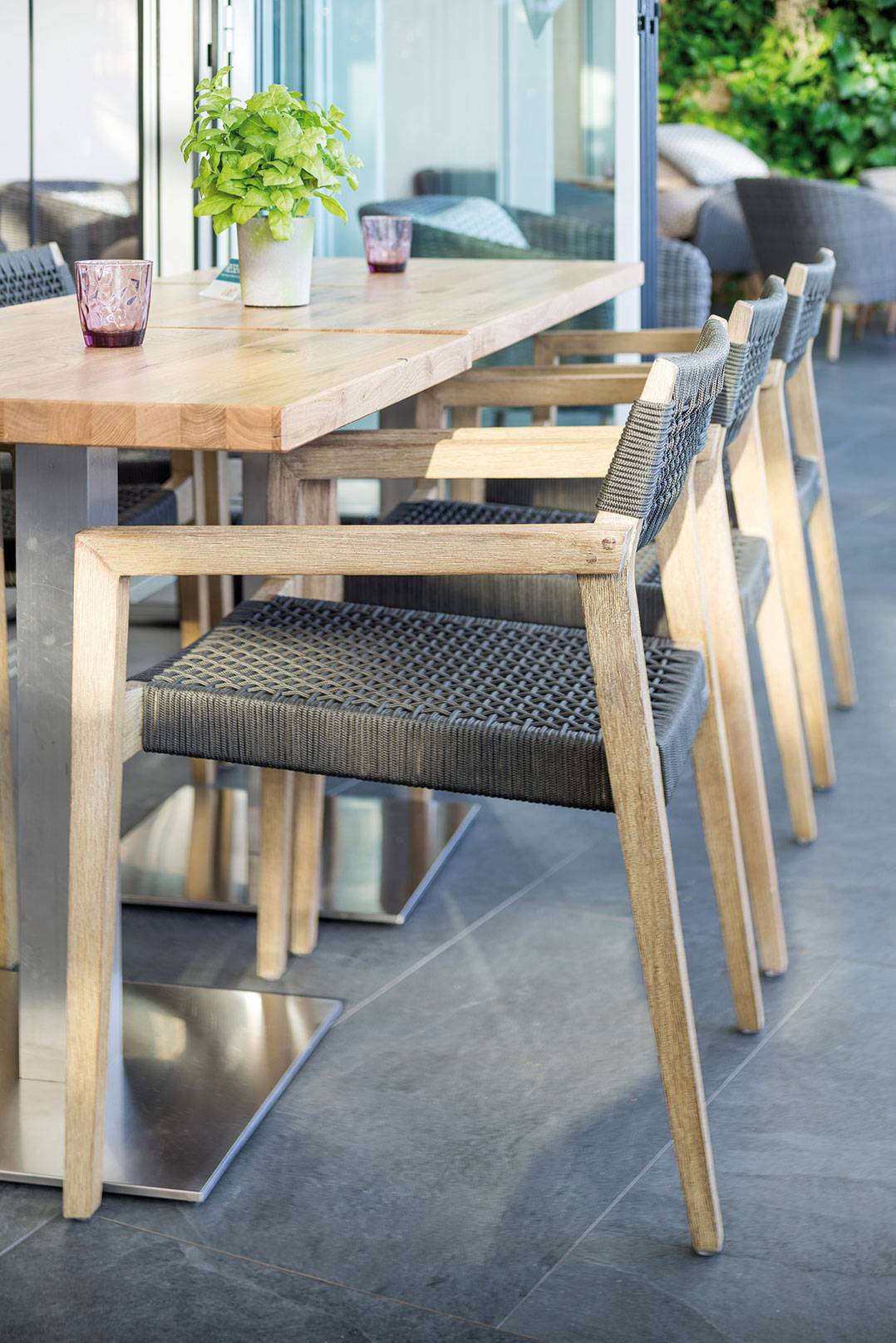 Wickerwork chairs – summer feeling in your outdoor area
Curved armrests in warm shades of brown, comfortable seats and backrests in coloured wickerwork – these chairs invite people to enjoy themselves. These special chairs give the outdoor area of your food service establishment a French brasserie atmosphere, which is supported by the aroma of fresh coffee and French cuisine. GO IN offers you wickerwork chairs made from wonderful materials which achieve almost any style.
Metal and wicker – the perfect outdoor combination
Stackable, timeless, UV-resistant and tear-proof – those are the requirements for outdoor furniture. And our chairs satisfy these 100 %. A combination of metal and wicker assists with the necessary ease for setting up the terrace. And these chairs are also perfect for the pool area of your hotel. The modern material is UV-resistant and tear-proof. The polyethylene ribbon has thermoplastic properties and can, therefore, be formed into a firm mesh. Especially on hot summer days, such chairs are a wonderful alternative to classic upholstered chairs or plastic chairs which soon become uncomfortable and sticky. The mesh is light and breathable and is just what you need to cool you down, as well as a cool iced tea. Important: Some of these models are primarily suitable for a covered outdoor area. When these wickerwork chairs are exposed to direct sunlight or rain, the colours may fade prematurely.
Wonderful wickerwork chairs for any interior design style
The natural rattan look instantly produces a wonderful feeling of relaxation and being on holiday which will melt your guests' hearts.
The chair frame is made from aluminium, which either has a wooden finish or is silver powder-coated. With its coffee brown polyester woven fabric and teak coverings for the armrests, the chair adds a warm touch to any food service area – irrespective of the outdoor temperature. Wickerwork chairs and armchairs in warm wooden hues are timeless classics. But the furniture trends also do not remain secret. Upbeat colours give your dining area or your terrace a lively touch. You want flexibility? We have it! Additional cushions and seat coverings may not be necessary due to the comfortable and yielding material. Nevertheless, you can use them to provide fantastic accents if you are hosting a themed party. Of course, you can also choose the colour of the wickerwork yourself before buying it.
What is the difference between wickerwork chairs and woven chairs?
Woven fabric is the crossing of thread systems, warp and weft threads, at right angles. The threads are pulled through over and under the transverse threads in a certain rhythm. The dense weave results in a tear-proof surface. In the case of wickerwork, however, the thread systems cross one another diagonally to the edge of the material. The result is wonderful wickerwork patterns which give your chairs a modern touch.
Our team would be happy to advise you about further fire safety requirements and offers you alternative solutions for your furniture. At GO IN, you receive excellent advice in every respect – from the unique online room planning software to the express delivery service, the assembly service, the sample dispatch service or the fulfilment of safety and fire safety requirements. GO IN is your partner! 
We are service partner